A woman fires back against those who have criticized her for breastfeeding her son out in public while at Disneyland with her family.
Brittni Medina was at Disneyland in Anaheim, California, with her family when she managed to outrage other patrons in the park. While they were standing in a long line for a ride, she decided to breastfeed her infant son, as she did not wish to lose her spot in line. However, unfortunately some were incredibly upset by her actions.
As she nursed openly, Medina soon realized that some of the people around her weren't too happy with what she was doing. The mother explained that two women in particular began criticizing her for breastfeeding in a public place, making very loud comments stating how she should've located to a more private place.
Instead of ignoring the comments, Medina chose to have her husband take a picture of her breastfeeding her son while the women making comments stand in the back criticizing her.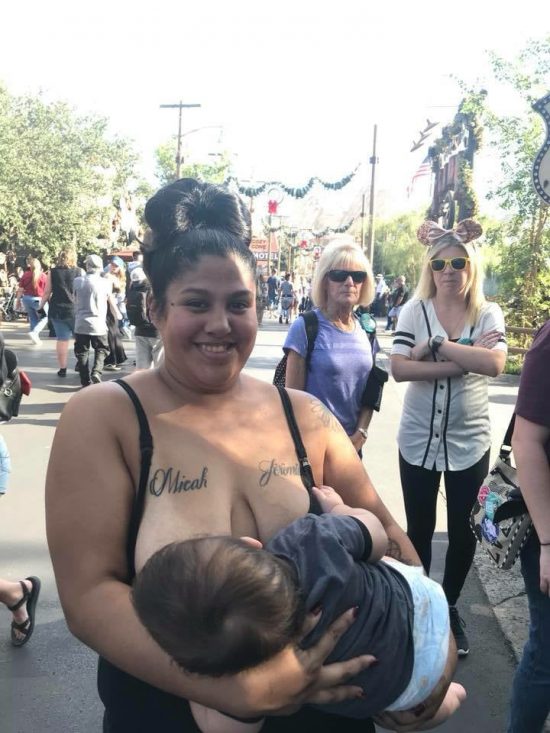 Medina posted the picture on Facebook to recount the incident where she was allegedly shamed for breastfeeding her son at Disneyland. She wrote in the post, "These women were making snarky comments so I moved from my spot to catch a picture with these characters."
Medina asserted that the purpose of the picture was "not for attention for me but attention to the fact NO WOMEN SHOULD BE SHAMED FOR FEEDING THEIR BABY UNCOVERED." The mother described herself as "pretty comfortable feeding anywhere, anyway."
Medina also recounted her amused reaction to the women's remarks. "These ladies were so angry by it my husband just had to take a picture. Peep the haters," she wrote. "Characters of the day. Just had to get a picture!"
The mother shared that she is not bothered by haters. "I actually stepped a little over to get them in the picture because they were talking loudly saying how I should go to the restroom to feed," she told Popsugar. "I was happy my husband could capture me and my son happily feeding and I thought the looks on their faces were priceless. I mean, how could they be so mad?"
The Daily Mail reported that Medina used to cover up when breastfeeding her eldest son out in public, however that did not stop people from criticizing her either. "I covered with my first son, but honestly people will complain no matter what you do!" she said.