A man following your child home is every parent's worst nightmare. But this became the reality for  Mike Oliver, an Army veteran and a father of 15.  Allegedly a stranger followed his daughter home after being dropped off at her school bus stop.
Oliver was not pleased when he found the man in his Livonia, Michigan home on a Monday afternoon.  Local News affilate Fox 2 Detroit reporst that The guy had allegedly followed his teenage daughter from her school bus stop and into their house."The door's staying open. Then, I heard her talking," Oliver recalled. "I get up, I go to the door, and there's a guy in my door."
Oliver's daughter had noticed while getting off the bus that something wasn't right. She realized someone was watching her and was following her as she walked home. When she reached her front door, she was approached by the man. According to police, he followed her onto the porch, asking if her parents were home. He then tried to follow her into the house, WXYZ reported.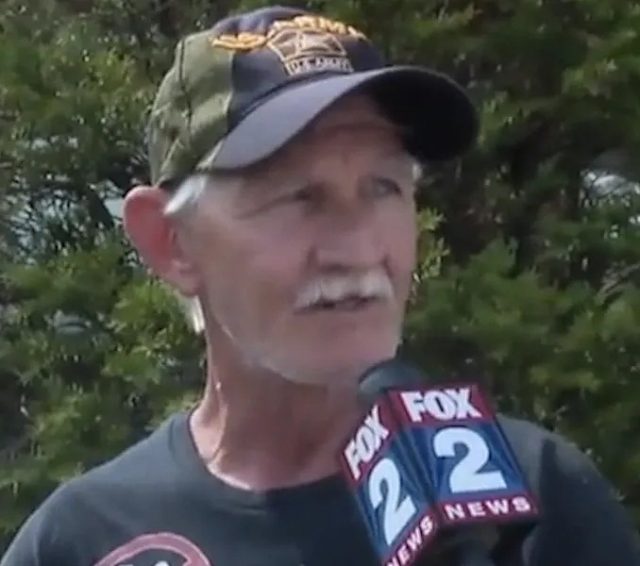 Thankfully her father was home. Mike Oliver had been sitting in the living room, waiting for his 15-year-old, 10th-grade daughter to get home.  He discovered the man, who appeared to be around 30 years old, had followed his daughter home. Upon discovery, Oliver asked the man in no uncertain terms what he was doing on his property.
Rather than answer, the suspect decided to try to bolt. However, Oliver wasn't going to let him get away so easily. The Army veteran promptly went after the man, later identified by police as 27-year-old David Roberts of Livonia.
Roberts didn't get far. In Fact, Oliver had him before he even made it off the lawn. "Grabbed him by his hair," Oliver said, recalling the moment. "He was like an alligator just twisting, and he got away. He ran around the corner."
Although the suspect initially escaped, the protective dad wasn't a bit discouraged. Mike Oliver got into his truck and followed David Roberts through the neighborhood. Oliver's 19-year-old son and the neighbors also got involved, attempting to help track Roberts down.  Oliver called 911 while in pursuit of the suspect.
Within minutes, multiple police officers arrived and found David Roberts in a nearby backyard. He was taken into custody and arraigned on charges of breaking, entering, and assaulting a police officer. His bond was set at $10,000.
"He could've been laying there on the ground today," Oliver said, referring to Roberts. "This could've been so much worse for him. But, this isn't about being right, it's about doing right," the Army veteran added.
Oliver's daughter, although safe, has not come out of this completely unscathed. "My daughter is doing well in school this year," Cindy Oliver, the girl's mother and Mike's wife, reported. "She didn't even wanna go to school today because she was fearful for her life."
Following the incident, parents and children alike are being reminded to watch their surroundings. It is also recommended that school children, regardless of their age, walk with a friend or — even better — a group to and from their house. If they see someone or something suspicious, they are urged to tell an adult or call 911. If they feel afraid or threatened, they should run. It may seem like common sense, but this simple reminder is most certainly needed. There are monsters among us, and our best defense is to first be alert.