Joe Biden voiced support for a two-state solution in the Israeli-Palestinian dispute, right before concluding his visit to the Middle East with a journey to Saudi Arabia.
"As I stand with you today, now as president of the United States, my commitment to that goal of a two-state solution has not changed in all these years," Biden said during a joint press conference with Mahmoud Abbas, President of the State of Palestine and the Palestinian National Authority.
Biden consulted with Israeli authorities the day prior where he re-affirmed his administration's alleged support for the Jewish state, while simultaneously calling for it to be gutted to an indefensible husk.
"Two states along the 1967 lines were mutually agreed to swaps remained the best way to achieve equal measure of security, prosperity, freedom, and democracy for the Palestinians, as well as Israelis," he told reporters in the joint statement.
"The Palestinian people deserve a state of their own that's independent, sovereign, viable, and contiguous," Biden said. "Two states for two people, both of whom have deep and ancient roots in this land, living side by side in peace and security."
Abbas, whose remarks preceded Biden's, stated that Palestinians have regard for international law, as he set out his plan for action steps that can be required to protect stability in the area.
"In this regard, we say that the key to peace and security in our region begins with recognizing the state of Palestine and enabling the Palestinian people to obtain their legitimate rights in accordance with international legitimacy resolutions and ending all the permanent status issues including the Palestinian refugees issues," Abbas said. "And the way to that begins with ending the Israeli occupation of our land, the land of the state of Palestine with East Jerusalem as its capital on the 1967 borders."
Abbas included that Palestinians have actually respected past international resolutions, signed agreements, and committed to renouncing violence and fighting global terrorism.
He contacted the U.S. to reopen the U.S. consulate in East Jerusalem, which the White House had shown only days before that it wanted to consider.
"Our position is that we would like a consulate in East Jerusalem. Obviously that requires engagement with the Israeli government. It requires engagement with the Palestinian leadership as well. And we will continue that engagement on this trip," U.S. National Security Advisor Jake Sullivan told reporters.
Abbas likewise urged the U.S. to remove the Palestine Liberation Organization (PLO) from the U.S. State Department's list of terrorist organizations and to re-open the PLO office in Washington D.C.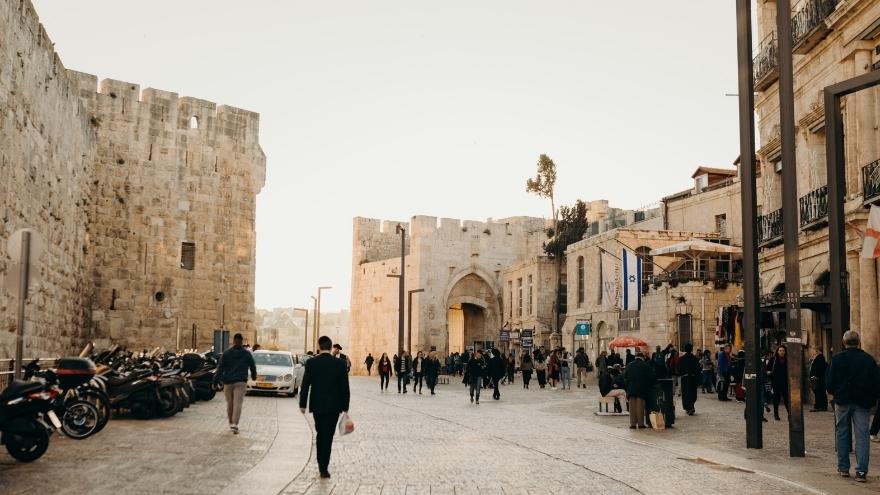 Dispute over Israel-Palestine is ever-present and political leaders worldwide have actually made many failed efforts to bring peace to the area. This week's reports from the U.S. and Palestinian authorities are being billed as a twinkle of hope, but not everybody is as positive, particularly the Israelis for whom the 1967 borders are an utter non-starter.
"Talk about 'two-state solution' is code for allowing Israeli apartheid to go uninterrupted, without saying it directly," Miko Peled, an Israeli-American whose father served in the Israeli army as a general in the Six-Day War of 1967, told Independent Journalist Tim Pool.

"The U.S. president is kicking the can down the road," he said. "Eventually they will have to admit the only choices are apartheid or a free Palestine on all of historic Palestine."
Peled's 13-year-old niece was killed in a Palestinian terrorist attack, in 1997, in Jerusalem. Her death stimulated him to end up being an activist, having actually accepted the belief that the violence in the area was mostly because of Israel's occupation of Palestine and an absence of significant peace negotiations.
Regardless of his father's support for a two-state service, Peled doubts it will emerge.
"Israel will never accept a solution that does not involve apartheid," he told Pool.
As an Israeli I support the movement to #BoycottIsrael. My home country is occupied by an apartheid regime which will not stop its racist oppression of Palestinians until the world stands up and demands it stop – just like apartheid in South Africa #BDS

— Miko Peled (@mikopeled) July 14, 2022
"The only solution other than apartheid is a free democratic Palestine on all of historic Palestine that will allow the refugees to return," he said. "Israel will never accept it unless we fight for it."
In Biden's remarks, he stated that the objective of the two states appears far, which the Palestinian individuals are harming. He likewise included that we have actually never ever quit on the work of peace.
"You know, there must be a political horizon that the Palestinian people can actually see, or at least feel. We cannot allow the hopelessness to steal away the future that so many have worked toward for so long," Biden said. "So even if the ground is not ripe at this moment to restart negotiations, the United States and my administration will not give up on trying to bring the Palestinians and Israelis, and both sides, closer together."
H/T Timcast