Food Truck makes a big mistake by refusing service to uniformed police officers and then expects the support of the community. Business Owner is faced with a rude awakening after deciding to deny service to uniformed police officers.
The Mount Airy Farmers Market and Mount Airy Main Street Association are staples when it comes to supporting local businesses in Frederick County, Maryland. The two organizations come together each year to give a place for local business owners to sell their wares and show off their talents to help support the local community.
There is very little that would cause the organizations to revoke their invitation to any local business to have a place at their farmers market location. However, one pop-up pizza parlor made a major announcement regarding a new policy that caused the market to make one of its own, leaving the pizzeria scrambling for funds.
The Pizza Llama food truck announced that it would refuse service to all uniformed police officers. Andrew Wilkinson, the owner of the pop-up shop, claimed that the policy change was intended to ensure the "safety" of his employees and patrons.
"Pizza Llama reserves the right to refuse service to police officers in uniform," the business confirmed on Facebook. "The comfort, safety, and well-being of our community (staff and customers) is our priority. Everyone is welcome to enjoy Pizza Llama, just not in a police uniform."
The announcement was met with criticism on and offline. Critics were outraged at how discriminatory the new policy was. The real repercussions, however, came when the farmer's market was notified of the policy change.
The Police Tribune reported that the farmers' market and its partners announced that Pizza Llama would no longer be allowed to utilize their lot at the market due to the owner's discriminatory stance. Instead, Wilkinson would have to find another location, effective immediately.
"The Mount Airy Main Street Farmers Market (Mount Airy Farmers Market) and Mount Airy Main Street Association (MAMSA) are apolitical organizations and therefore, must not discriminate in any way," they wrote on Facebook. "The Mount Airy Main Street Farmers Market and its vendors must put politics aside and serve all customers for the success of the market and the community it serves. Pizza Llama has been dismissed from the Market. We regret this action had to be taken and wish everyone peace during these turbulent times. We look forward to seeing and serving the entire community at the Mount Airy Main Street Farmers Market."
The Market made their decision two days before Pizza Llama announced it would stick by its policy. The Organizations behind the market were disheartened that the food truck would double down. The market made it clear it would not tolerate discrimination of any kind.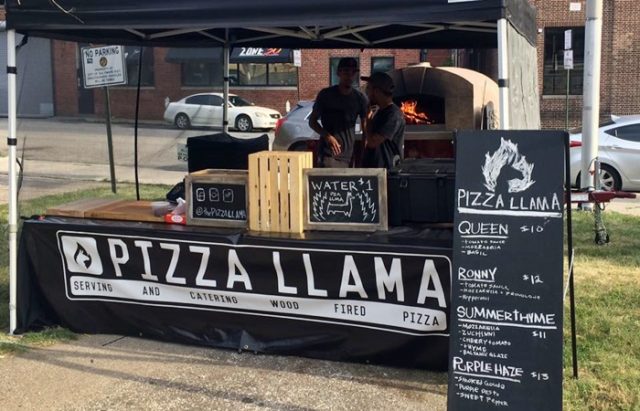 Wilkinson's anti-law enforcement position might have been personally motivated due to his past. Deputy State's Attorney Nanci Hamm claims Wilkinson was charged with 25 counts involving a major drug-dealing operation but pleaded guilty to three lesser charges. He was forced to forfeit $92,861 to the federal government. He was sentenced to 18 months in jail followed by three years of probation.
Wilkinson maintains his refusal to serve uniformed officers. A Go Fund Me account was launched to "help Pizza Llama secure a new lot," but the effort has only raised $855 of the $10,000 it seeks.